Remote Security Server
The remote security server secures ticketing transactions from multiple channels (TVM, agency, sales to remote server, etc.) in a centralized way. Flexible, it process all transactions with Calypso portable objects and contactless tickets.
---
Remote Security
Using one or several HSM security modules, the remote security server manages the security of ticketing transactions and much more:
Secure management of ticketing keys
Securing value distribution in Calypso portable objects
Securing value distribution in contactless tickets
Securing personalization operations
Management and setup of HSM security modules
Analysis of data collection and generation of usage reports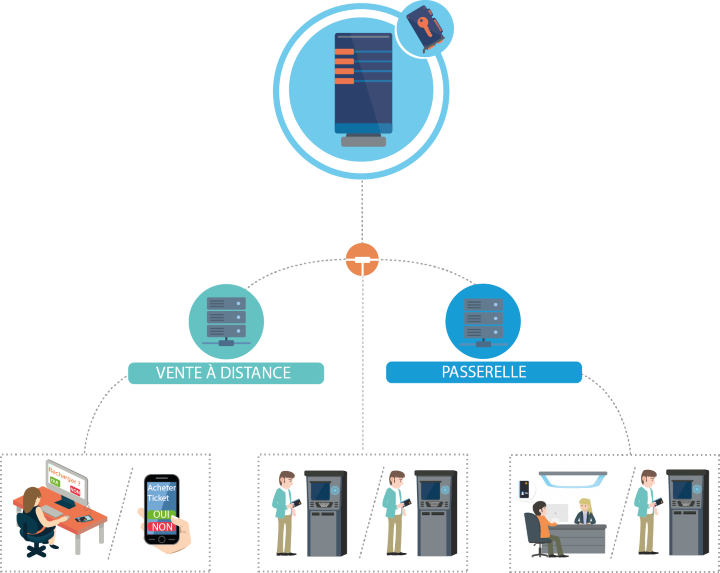 Communication management of Calypso and ticket transaction
Flexible, the server manages transactions between cards and terminals. Terminals relay the exchanges with the portable object in their raw format; the remote security server decodes them, interprets and sends the appropriate response.
Connected to a remote vending server, it facilitates the addition of new distribution channels for your users by requiring only to configure and update a single server.
Customizable of your projects
Designed and implemented according to a modular architecture, the remote security server easily integrates with your system by adapting its communication interface to your current solution:
Web Services,
XML,
Json,
Etc.
Advantages
Compatible with the latest Calypso specifications, the WSHSM ensures the security and authenticity of your ticketing transactions on all media.
Le WSHSM fits easily into your existing systems thanks to its flexible communication interfaces.
Modular, the WSHSM adapts to your system and objectives. Our team helps you in defining its features.